A Trembling Bird-mad Girl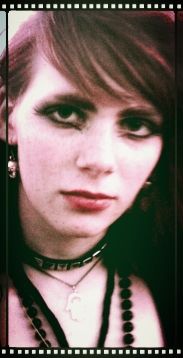 My name is Jess, I'm 21 years old, a Sagittarius with Moon in Scorpio, a Goth and the mother of a wonderful baby boy. I'm hetero/demisexual, cis-gendered (with some gender identity issues on the rare occassion). I'm a polytheistic agnostic, a cynic, an ideological anarchist, a hopeless romantic, a day-dreamer, an INFP, a vampire* and an aspiring novelist.
I am obsessed with all things creepy, morbid or eerie -- I am in love with the occult and the supernatural and I love to read pretty much anything/everything I can get my hands on. I love Corvids, most especially crows and I feel a strong emotional connection to Isis, Bastet and Odin (a few other gods too, but not strong enough that it's worth mentioning!)
I am hopelessly, helplessly, passionately and deeply in love with my wonderful wolf,
Canaanimal/Michael
*I do not consider myself vampire "otherkin" I simply identify strongly with vampires and have ever since I was about 10 years old. As a ginger, I have rather sun-sensitive skin and sun-sensitive eyes, it mostly developed out of a joke between my friends and I.
DISCLAIMER
I post NSFW, kink-related, nude and also (possibly) gory, morbid and creepy pictures. I will try to keep all of them tagged however -- if you do not have a working tumblr savior or xkit I cannot recommend following my blog. HOWEVER! If I post anything you would like me to tag , just send me an ask and I will.
Statistics
Commissions: OPEN.
Ask Box: OPEN
Relationship Status: TAKEN!!!
Birthday: December 4th
Current Book: None -- Suggest one Via ask!
Blogs i follow